A Minecraft player has remade one of the most iconic scenes from the original Star Wars trilogy. Players of the sandbox title enjoy recreating different things from the real world, as well as scenes from movies, video games, and TV shows. This includes making photorealistic versions of objects in Minecraft that obviously took a lot of hard work and patience.
Players have done recreations of not just movies and television, but real life events as well. This includes Minecraft versions of Civil War battles, which help preserve the history of important times in history that should be remembered. One fan of the game decided to remake a scene from a Star Wars movie that has stuck with those who enjoy the series as a pivotal scene.
RELATED: Artist Imagines Realistic Version of Minecraft's Strider
A Redditor named Alexander-00AK recreated the scene where the Death Star destroys Alderaan in Star Wars: Episode IV – A New Hope. In piece that the user did, the Death Star hovers over Alderaaan while shooting a beam, which leads to the end of the planet. Alexander-00AK was able to perfectly encapsulate the moment from the film, as they did a great job at making the beam and the explosion that is rocking the planet. The project can bring back a lot of memories for those who watched the first Star Wars movie and recall watching the destruction of Alderaan.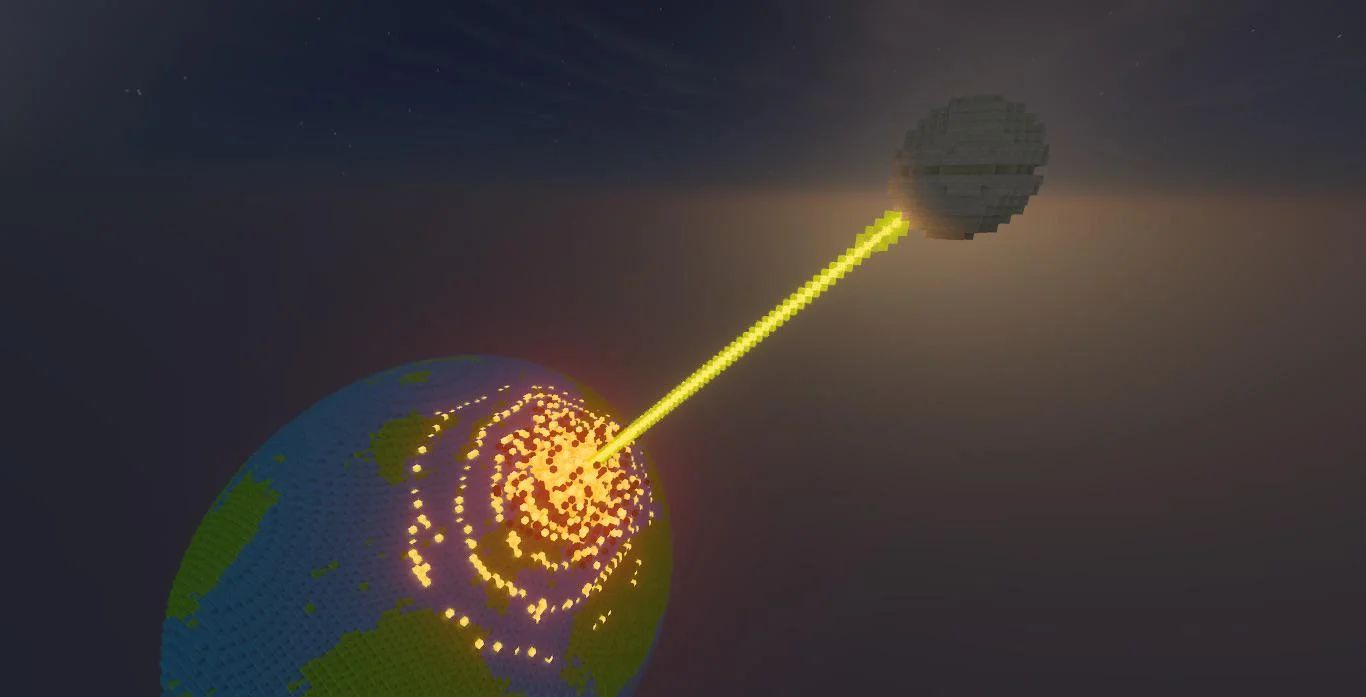 More images can be seen on Alexander-00AK's original Reddit post.
Many Redditors seem to be enjoying Alexander-00AK's depiction of Alderaan's doom in Minecraft. Some jested by quoting the movie, repeating lines such as "That thing's operational," and "Look at him. He's heading for that small moon." Alexander-00Ak was even asked how long it took them to make the piece, to which they responded a few hours.
The scene that Alexander-00AK was a very important one in A New Hope. It helped to establish the villainy of the Empire and demonstrated just what the Death Star was capable of. It also helped set up the end of the movie as the film's heroes fight to take the space station down, as they now know what it is capable of. Alexander-00AK was able to the high point of the scene, a moment that fans of the Star Wars series will always remember, and depict it quite well. It also helped show what is possible in Minecraft. The project shows that most things are doable in the sandbox title, and where a bit of hard work, patience, and determination can get players in the game.
Minecraft is available now for Mobile, PC, PS3, PS4, Switch, Xbox 360, and Xbox One.
MORE: Minecraft Needs More Features Like Ancient Cities