The Noble Collection is bringing the iconic props of the hit sandbox game, Minecraft, to life with its upcoming series of game-accurate replicas.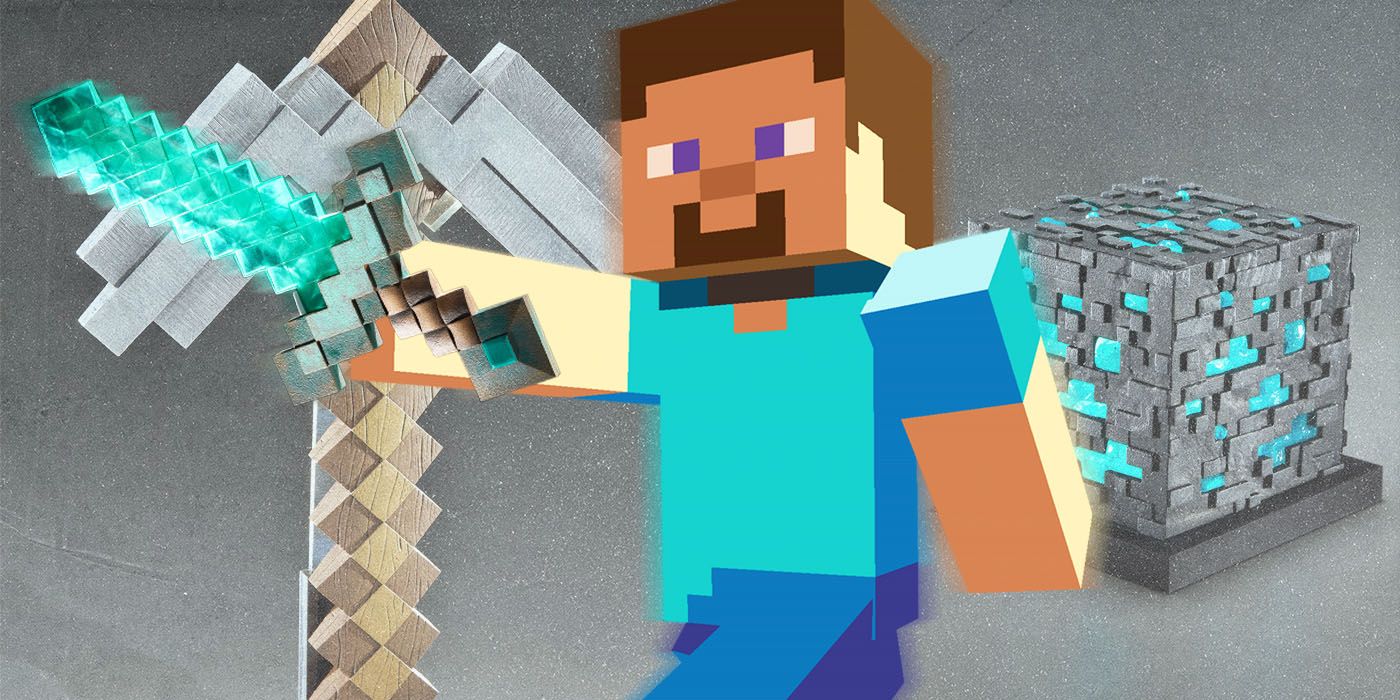 Fans of Minecraft can purchase game-accurate replicas of many of the game's famous items.
The Noble Collection, a company known for its high-quality, franchise-inspired merchandise, recently announced its upcoming Minecraft prop replica series, which hits shelves in 2023. This collection's "first wave" will have six collectible items based on iconic tools and ore blocks from the game. Currently, the anticipated price range for these replicas is between $34.99-$69.99.
RELATED: Wild Hearts Is EA and Koei Tecmo's Answer to Monster Hunter – And Minecraft
The portion of the collection based on tools consists of a Diamond Sword replica, an Iron Pickaxe replica, a Light-Up Torch replica, and an Illuminating Potion Bottle replica. As the names suggest, the potion bottle and torch can light up, illuminating dark areas just like their in-game counterparts. The remaining two items are a Diamond Ore replica and a Redstone ore replica, both of which feature a surface texture and design that closely mimics that of a Minecraft ore block. These two items can also light up, like the torch and potion bottle.
Minecraft first hit the gaming world in 2009 with the launch of what is now known as Minecraft Classic. Since then, Mojang Studio's hit sandbox game has cultivated a massive, worldwide fanbase, along with a highly-active modding community. The title has garnered near-universal praise for its groundbreaking creative mechanics, which Minecraft fans often utilize to impressive ends. While many of the skins, textures and biomes offered in Minecraft's online marketplace are created by fans, Minecraft has also released official content packs based on major franchises, such as the recently released Batman-themed DLC pack. Meant to commemorate the launch of the highly-anticipated video game Gotham Knights, this DLC pack includes a huge recreation of Gotham City, in addition to a skin pack containing 18 iconic heroes and villains from the Batman universe. This pack launched in Minecraft's marketplace on Oct. 18.
RELATED: Minecraft Announces Batman DLC Featuring Nightwing, Batgirl and More
Minecraft's popularity has also led to two popular spin-off titles, Minecraft: Story Mode, which launched in 2017, and Minecraft Dungeons, which launched in 2020. The former is a narrative-driven, choice-based experience that has the player assume the role of a character named Jesse to go on a quest to find a group of legendary warriors called "The Order of The Stone" in order to save the world from destruction. The latter is a kill-and-loot dungeon-crawling RPG that sends the player on a journey to defeat the villainous "Arch-Ilager."
The Noble Collection's Minecraft Collector Replica series hit shelves in 2023. Minecraft is available now, with cross-platform play, for PC, Nintendo Switch, PS4, Xbox One, Android and iOS.
Source: The Noble Collection