A Minecraft fan replicates the album art for Metallica's Master of Puppets, which fans often regard as one of the most important thrash metal records.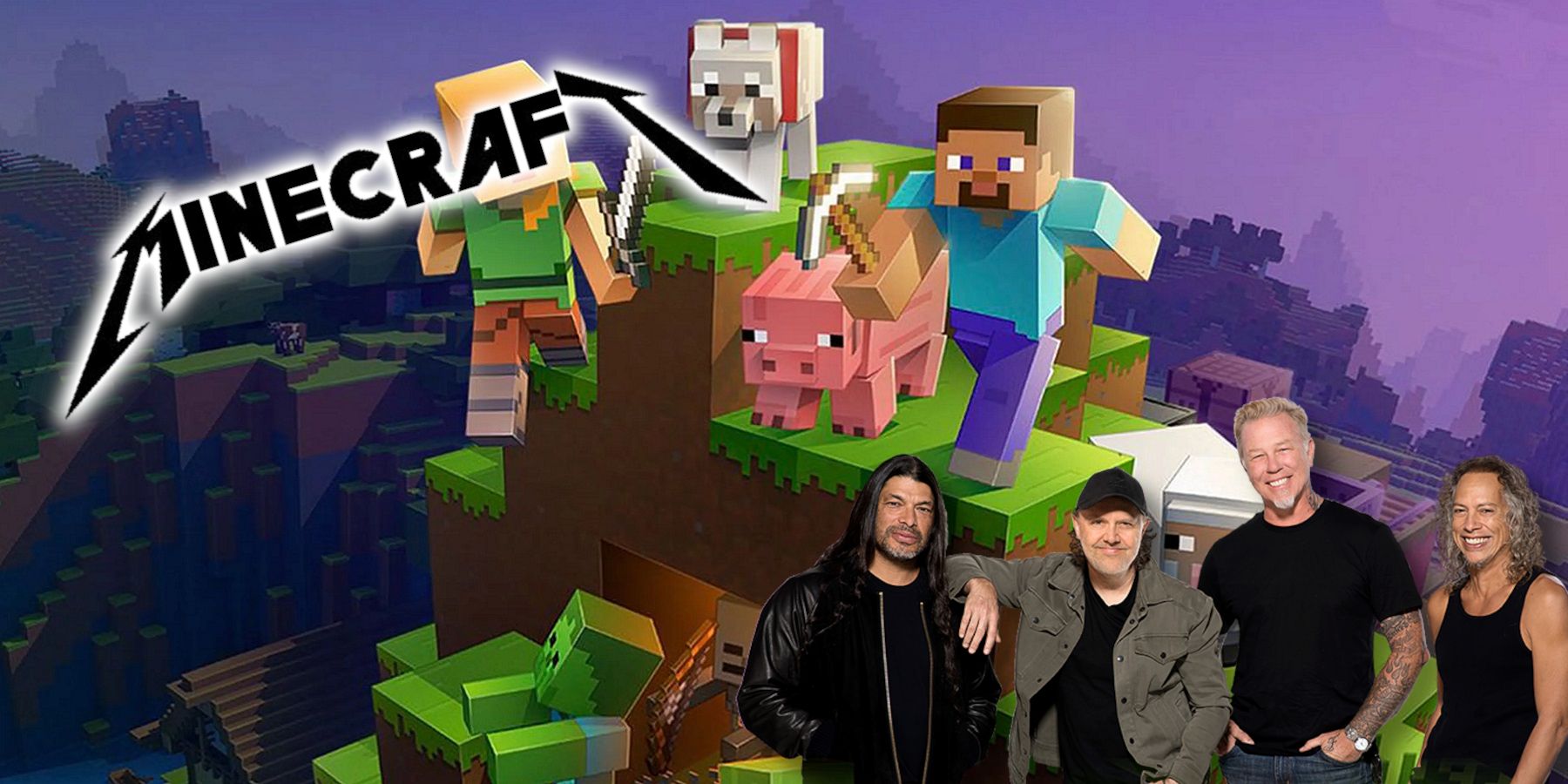 Combining their love of gaming with their passion for heavy metal music, a Minecraft fan has managed to recreate the artwork from Metallica's iconic album Master of Puppets. There are so many video games that pair well with heavy metal and rock, with titles such as Doom and Brutal Legend being immediate examples. However, something like Mojang's open-world sandbox release might seem less fitting for chugging guitar riffs and double bass drumming. Evidently, that doesn't seem to have stopped one Minecraft player.
It's very common for Minecraft fans to make blocky replicas of famous assets, be it a scene from a movie or even a recreation of a real-life landmark. With endless potential for creativity, the game has been a blank canvas for all sorts of builds over the years, and the community is awash with so many talented individuals that continue to showcase some very impressive projects. Sometimes fans are wont to show their love of classic albums.
RELATED: Minecraft Gamer Creates Real-Life Replica of One of the Game's Paintings
That's what Reddit user Thepromc64 has done, at least. In a recent thread, they showed off their recreation of the influential Metallica album Master of Puppets within Minecraft. Anyone who's familiar with the release would recognize it instantly, even if they had left out the band name. It comprises the distinctive red field with white cross-shaped gravestones that go off into the distance. Above it hovers the giant hands that hold strings attached to the gravestones. As album covers go, it's definitely one that stands out, and Thepromc64 has done an excellently faithful replica of it.
Master of Puppets is one of Metallica's most influential albums, releasing in 1986 and going down as a landmark record in the thrash metal scene, essentially launching the band to international stardom. Containing such songs as "Battery," "The Thing That Should Not Be," "Welcome Home (Sanitarium)," and the instrumental piece "Orion," not to mention the title track, it's an album that is a staple in the metal community. It also came back into mainstream media when the song "Master of Puppets" was played in an episode of Stranger Things.
As for the game itself, Minecraft has near-infinite replay value, and it's the reason why it's still going strong after all this time. It's the ultimate way for people to relieve boredom when it comes to gaming, and despite the fact that the game is well over a decade old at this point, the fact that so many players are still showing off their builds proves just how important it is to the fan base.
Minecraft is available now for Mobile, PC, PS3, PS4, Switch, Xbox 360, and Xbox One.
MORE: Minecraft: 6 Tips To Defeat The Wither