A Minecraft fan has demonstrated their ability to create natural landscapes by constructing some lovely looking mountains, proving there is so much dedication in the community. Beginning life as a small indie game, Mojang's sandbox title grew over the years to dominate the industry, selling hundreds of millions of copies over the course of a decade or so and providing near-endless potential for players to craft whatever comes to mind. Even after all these years, there are still some interesting projects being displayed.
Despite its blocky visuals, Minecraft fans are capable of creating beautifully detailed structures, some looking quite advanced or even photorealistic. While many builds are made from the imagination, there are also those who are willing to recreate assets from other franchises, including Star Wars and Back to the Future. Then there are those who go that extra step and create a facsimile of something from the real world, whether that's the Las Vegas Strip, a famous monument, or even a 1:1 scale replica of an entire country.
RELATED: Minecraft Player Shows Off Photorealistic City Build
While a lot of Minecraft projects are often something like a building or Redstone contraption, Reddit user D3mqnU decided to go for something more natural-looking by making mountains that look like they've been around for millions of years, complete with snow-covered peaks. Others have commented about how the creator has absolutely knocked it out of the park with this attempt. A number of images uploaded to the thread show the land mass under different lighting, such as at nighttime, which really makes the scenery pop. One thing they also used to really complete the effect was shaders.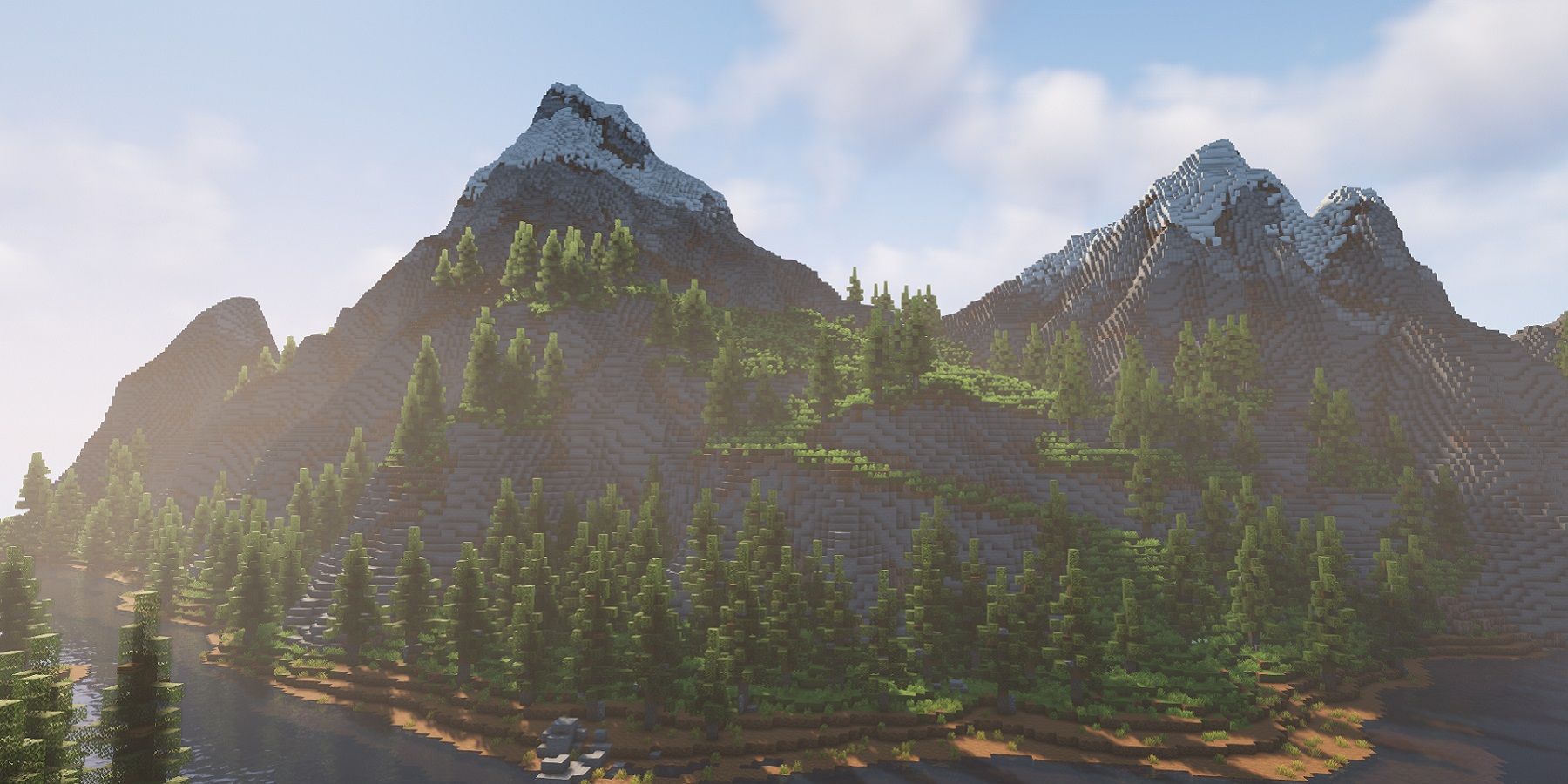 More images can be found on the Reddit thread here.
Shaders in Minecraft make the game look incredible, despite the low-res graphics. By tweaking the visuals, they implement more realistic lighting and shadows, giving the retro-looking title a more modern appearance. There are many different ones to choose from, and D3mqnU used v4.1 of Complementary Shaders. The first image they uploaded shows the mountains without shaders so people can get a good idea of how they look in the vanilla game and also how they compare side-by-side with the more realistic lighting effects.
Minecraft is one of the biggest games around in terms of map size, with so much to explore and so many biomes to walk around in. Of course, the vanilla experience has hilly and mountainous regions, but evidently this user felt it was time there were some different ones inserted into the game. If nothing else, it makes the landscape look that extra bit majestic.
Minecraft is available on Mobile, PC, PS3, PS4, Switch, Xbox 360, and Xbox One.
MORE: Minecraft: 14 Hardest Advancements To Unlock