Even though Minecraft is one of the most popular sandbox games since its release, it's still confusing to get started with. That's because its developers maintain two similar but independent versions of the game – Minecraft Bedrock vs Minecraft Java Edition. If you haven't tried the game yet, you can play Minecraft in your web browser for free to get a feel of what it's all about. For console & smartphone users, Minecraft Bedrock will be your only option, while PC users can choose between either. Now, if you want to get started with Minecraft, let's figure out which version is best for you. We will look at the similarities and differences are between Minecraft Bedrock vs Java Edition in this article.
Minecraft Bedrock vs Java Edition: Detailed Comparison (2021)
Visually, both Minecraft Bedrock and Java editions look the same. But don't be fooled by the looks, as Minecraft Bedrock is developed in C++ while Java edition is developed in, well obviously, Java. The developers maintain and develop features for each version separately. Having said that, it's time to find out how these two versions of Minecraft compare.
History of Minecraft
For the uninitiated, Minecraft is an open-world sandbox game where you spawn into a random world. The main objective of this blocky 3D Minecraft world is exploration. It is a seemingly infinite game that offers users endless play styles, numerous stories, and virtually endless terrain. Minecraft came out with its original and first Java edition in 2011 and was an instant hit. Due to increasing popularity and demand on different devices, the developers launched a performance-focused Minecraft Bedrock in 2016.
Starting with PC, Bedrock Edition later spread to other devices, including Android, iOS, consoles, and even smart TVs. Bedrock is used to describe any non-java version of the game. Officially speaking, Minecraft's Bedrock version is called Minecraft, while the Java version is called Minecraft Java Edition. To avoid confusion, we will be using the Bedrock while describing the Bedrock Edition of the game.
Minecraft Bedrock vs Java Edition: Supported Platforms
Let's start with the availability, which is a big issue that you might have to tackle. The Minecraft Java Edition is officially available on Windows, Mac, and Linux. Meanwhile, you can get Minecraft Bedrock on almost every platform except Mac, Linux, and Chrome OS. You can officially play Minecraft Bedrock on the following platforms:
Windows
Android
iOS/ iPadOS
Nintendo Switch
PS4/ PS5
Xbox One/ Xbox Series X/ Series S
Kindle Fire OS
Minecraft Bedrock vs Java Edition: Pricing
As for the pricing, the Minecraft Java Edition costs $26.95 on all platforms, namely Mac, Windows, and Linux. The pricing varies greatly across platforms for the Bedrock Edition. You can pay as low as $6.99 to try out the game on iOS/ iPadOS and Fire OS. The game costs $7.49 on Android, $20 on PS4 and Xbox consoles, and $26.99 on Windows PC. It's the most expensive on Nintendo Switch, where you need to spend $29.99 to start with Minecraft Bedrock.
Minecraft Bedrock vs Java Edition: Performance
If you have a powerful custom PC with GPUs like the newly released GeForce RTX 3080 Ti, you can push Minecraft to its extreme in the Java edition. It's a highly demanding version of Minecraft, superior in terms of graphics. But that was the case until Bedrock Edition got the Minecraft with RTX update. At the moment, Bedrock is a better choice if you are on a mid to low-end PC and also if you want to play Minecraft at its higher end with RTX.
If we ignore RTX support, Minecraft Java lets you enhance graphics way better with its numerous mods. However, Java will never run on RTX because it depends on Open GL for rendering, which RTX doesn't support. Even beyond graphics, Java Edition requires higher specs to run the game smoothly, even with the same settings as the Bedrock edition.
Minecraft Bedrock vs Java Edition: Modding
The performance comparison might seem biased towards Bedrock due to its superior RTX-supported graphics, but a game's experience goes beyond that. And this is where mods come into the picture.
Mods are additional user-developed pieces of software that you can use to customize any game into a whole new experience. From Harry Potter to Starwars, Minecraft has an ever-growing community of amazing mods, but there's a catch. These mods are only available for the Java Edition of the game. To further reduce complexities, the Minecraft Bedrock edition is mod-free.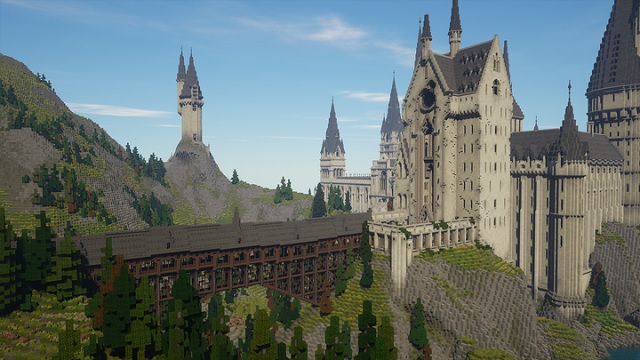 In simple terms, if you plan on using mods to make enhancements to your Minecraft 3D block world, you will have to choose the Java edition. There are a few paid modding tools available for the Bedrock edition, but they are simply not worth the effort.
Minecraft Bedrock vs Java Edition: Multiplayer Support & Servers
Both Minecraft Java and Bedrock have multiplayer support. The way they do it is slightly different, though. With Minecraft Bedrock, you can play with your friends on consoles or mobiles using cross-play support. That means your friends don't need to be on the same platform as you. They can be on their Xbox/ PS/ Switch consoles or mobile phones and still explore the map together.
Minecraft Java Edition players also get cross-play support, but it is limited to Windows, Linux, and macOS computers. Well, that's expected as the Java edition is not available on consoles and mobile devices.
If you have friends on different platforms that you want to play with, Minecraft Bedrock is the obvious choice. The situation changes when it comes to online servers, though. If you want cool maps, amazing mini-games, and a lot of random online players, Minecraft Java has you covered with all the jazz.
Due to its early release, it has a massive community around the world, even without proper cross-play support. You might need a good PC to run it properly, but Minecraft Java has the best online servers in general.
Which Version Gets Better and Faster Game Updates?
Fortunately, both editions of the game get regular maintenance updates from the developer. Overall, we get the same features and usually the same bugs in almost every official update.
Being a standalone version, MC Java used to get earlier updates in the past. Nowadays, you can expect updates for both versions to arrive on both around the same time. The situation remains pretty much the same during the beta testing phase as well. Though, it's worth noting that if an update comes with a bug, you will find user-made fixes on the Java edition earlier than Minecraft Bedrock because of the better customizability.
Minecraft Java Edition vs Bedrock: Parental Control
Minecraft is popular and targeted towards the younger crowd. Even their education edition establishes this fact. But an open community with all types of mods, content, and in-game "hunting" means not all parents are comfortable allowing their children to play the game. And if you are a parent worried about the same, only the Bedrock edition, at this moment, seems to address the situation.
As the Minecraft Bedrock Edition is linked to Xbox's services, young gamers can expect strict moderation as well as exclusive parental control. The Java edition has no such restrictions or a proper parental control system.  For the more concerned parents, other sandbox games like Minecraft can give your children a better choice and a safer gaming environment.
Minecraft Java Edition vs Bedrock: Marketplace
When I say Minecraft Java and Bedrock are different at their core, I mean it. Because at one side we have an official marketplace of Bedrock edition with purchasable skins and add-os. On the other side, the Java edition supports community-made skins that you can create, download, and even share with other users.
This establishes a scenario that makes the Bedrock edition look like the corporate version of the game, while the Java edition feels like a good old community project. Let's not read between the lines, though. If you want to purchase well-designed official skins and install them easily, Minecraft Bedrock should be your choice. If you are willing to make the extra efforts for (usually) free community skins and more add-ons, go for the Java edition.
Hardcore Mode in Minecraft Java and Bedrock
The fans of Bedrock are still waiting for the popular hardcore mode to reach Minecraft Bedrock. It's a risky survival-based mode in which an in-game death means you have to restart instead of respawning. The stakes are very high, and the fans love it. If this is the type of extreme gameplay you are looking for, you need to go with Minecraft Java.
We don't have an official statement just yet, but fans on the official Minecraft subreddit suspect an underdeveloped spectator mode might be the reason for the hardcore mode being exclusive to Java. Spectator mode, for those unaware, is a way to explore the world after dying in hardcore mode. Until Mojang finds a solution, sticking with the Java edition is the only option for hardcore players.
Minecraft Java Edition vs Bedrock: Which is Better?
Let's take a final look at the differences between the two editions of Minecraft before making a decision:
| FEATURES | MINECRAFT JAVA | MINECRAFT BEDROCK |
| --- | --- | --- |
| Supported platforms | Windows, Mac, and Linux | Windows, Android, iOS, Xbox One, Xbox Series X/ S, PS4/ PS5, Nintendo Switch, and Kindle Fire OS |
| Cross-Play | Only for PC users | Available across all platforms |
| Modding | Available | NA |
| Performance | Resource Intensive | Smooth on Most Systems |
| Community | Huge & Growing | Limited |
| Parental Controls | NA | Available |
| Skins | Community-Based | Purchasable |
| Hardcore Mode | Available | NA |
| Pricing | $26.95 | starts at $6.99 on iOS and goes up to $29.99 on Nintendo Switch |
As you might have already figured out, Minecraft Bedrock is your only option if you are not on a PC. This version of the game supports cross-play, parental control, and beautiful RTX graphics. If you are on PC and need modding support, community-based servers, skins, and all the jazz, then install the Java edition right away. Remember that you need a high-end PC to run the Java Edition comfortably.
Minecraft Bedrock or Java Edition: Pick the Right Version for You!
That's pretty much it. I hope you now have more clarity on which edition of this popular sandbox game you want to play and why. Do share your choice with us in the comments section below. Fortunately, if you join any of these Minecraft discord servers, you don't have to choose a side to share your love for the game. And you can even find new players to enjoy the game with. Finally, not to forget, the game is not free-to-play, so there will be some fake Minecraft mods on the Google Play Store and beyond. Additionally, you can play Minecraft Java on Chromebooks as well, and we have you covered with a detailed tutorial. So go ahead and explore the magical 3D world of Minecraft!