Minecraft collaborates with Avatar: The Last Airbender to bring Aang, Roku, Kyoshi and Korra to the game in its upcoming DLC, Avatar Legends.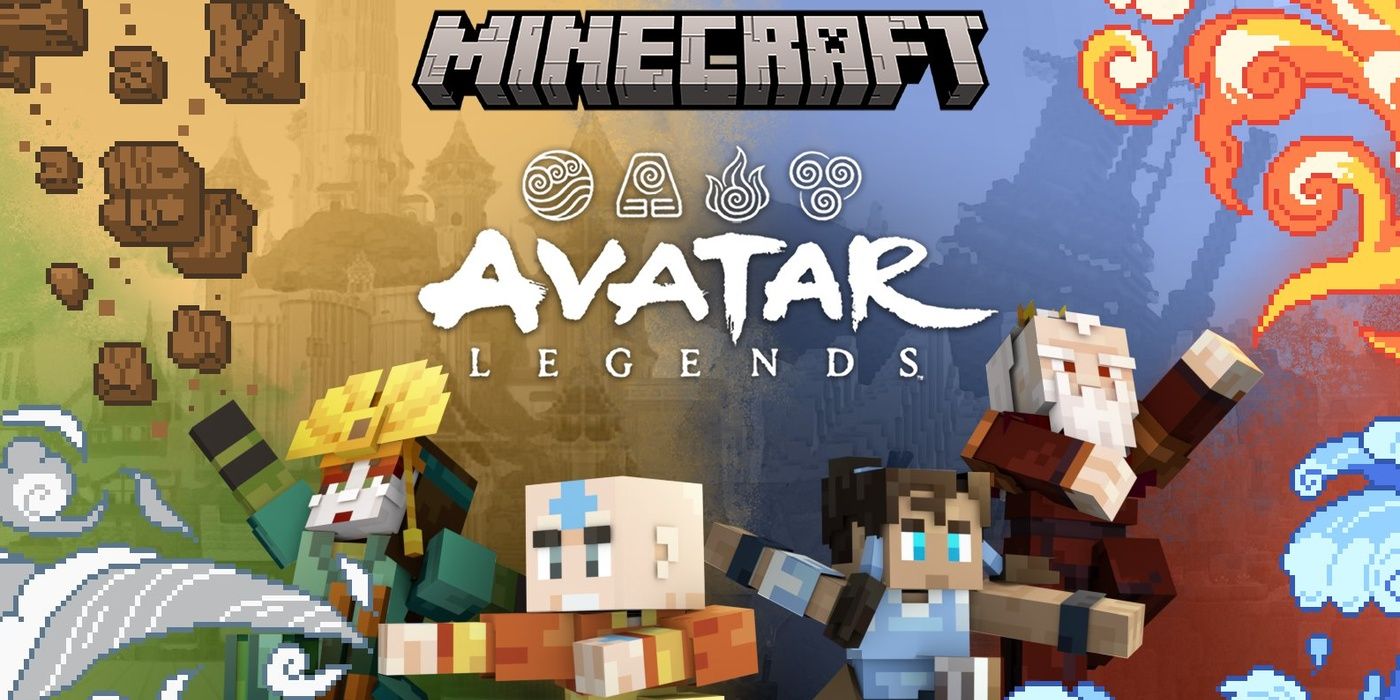 Minecraft has joined forces with Avatar: The Last Airbender for its recent collaboration.
Minecraft's official Twitter announced its upcoming DLC titled Avatar Legends, including character skins for Aang, Roku, Kyoshi and Korra, and promotional art. The aforementioned figures are the previous avatars of the respective Air, Fire, Earth and Water elements but possess the ability to control all four. It's unclear if Mojang's collaboration with the Avatar franchise will include any other special content except for character skins.
RELATED: Minecraft Announces Batman DLC Featuring Nightwing, Batgirl and More
Minecraft Loves Collaborations
Before Avatar, Minecraft collaborated with franchises like Ice Age and Star Wars with character skins and themed locations. The Mojang title teamed with Pixar's Lightyear for an intergalactic DLC adventure through Buzz's origin story. Minecraft has also sparked users' creativity to create their own character skins. Since the inception of Minecraft Marketplace, the innovative feature has allowed the creator community to design skin packs, texture packs and worlds for purchase at the in-game store.
Released in 2011, the sandbox game became one of the best-selling titles of all time, with over 238 million copies sold. Mojang's Minecraft allows players to explore a blocky version of a vast world, building personalized creations in the process. Players must discover various materials to craft tools and items for building. Minecraft offers a survival mode and cooperative or competitive play with other players.
RELATED: Wild Hearts Is EA and Koei Tecmo's Answer to Monster Hunter – And Minecraft
Avatar Also Collabed With Brawlhalla
Before Minecraft, Avatar: The Last Airbender also joined forces with the free-to-play game Brawlhalla. On Nov. 6, Brawlhalla announced the collaboration on its official Twitter, along with a one-minute clip akin to the original series' opening sequence. "The Hundred Year War may be over, but the brawl is just beginning," the battle game wrote. As announced, Aang, Toph and Zuko have now joined Brawlhalla as playable characters. The game's previous crossovers also include Castlevania and Street Fighter.
While ATLA is receiving the Minecraft treatment, the franchise has video games of its own. Released in 2006, Avatar: The Last Airbender: The Video Game debuted as a launch title for the Nintendo Wii in North America. The game lets players control Aang, Katara, Haru or Sokka in their adventures set between Book 1 and Book 2. In 2007, the video game received a sequel, Avatar: The Last Airbender – The Burning Earth and a follow-up title, Avatar: The Last Airbender – Into the Inferno.
Avatar Legends DLC releases on the Minecraft Marketplace on Dec. 6, 2022. Minecraft is available now, with cross-platform play, for PC, Nintendo Switch, PS4, Xbox One, Android and iOS.
Source: Twitter