If there's one game that has withstood the test of time and continues to marvel us, it must be Minecraft. We have exciting things going on with future Minecraft updates that guarantee exciting new mechanics, biomes, and spooky, scary mobs. But even with all this brand new content, the modding community has a never-ending supply of Minecraft Launchers and mods to include into your Minecraft world. 
While most players rely on Mojang's default launcher to play their games, sometimes you just want to install a bunch of addons and create a unique customized experience. So how do you keep everything organized and running smoothly? Use one of the 10 best Minecraft launchers in 2022, of course!
We've tested and compiled the most popular options available, each with useful perks and features to cater to everyone's needs. Let's see what they have to offer!
---
1
SKLauncher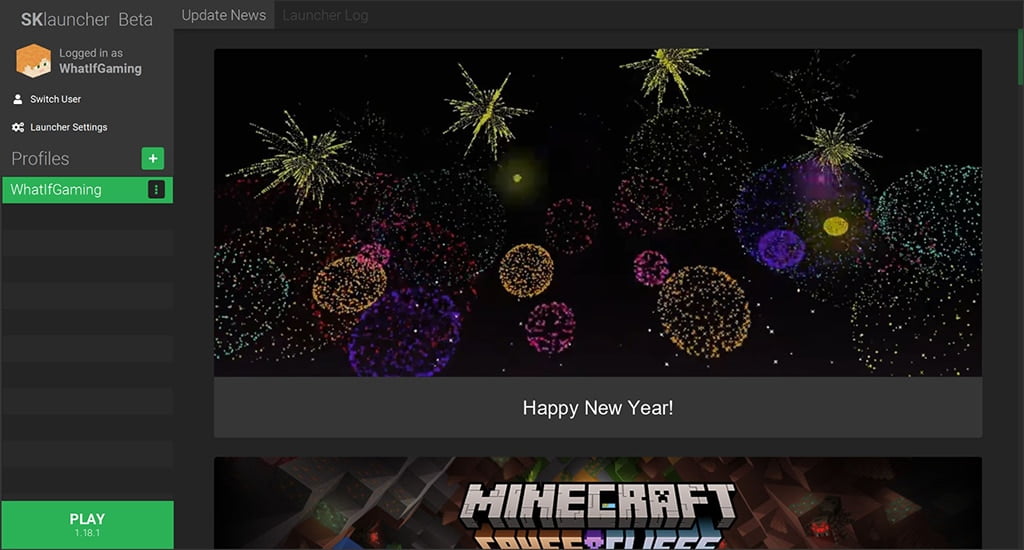 Available on all operating systems
Patch fixes almost weekly
Has over 20 language settings
Needs Java 8 with JavaFX installed
Available for Windows, macOS and Linux, SKLauncher is one of the best Minecraft launchers to try this year. Back in 2020, the team has completely rewritten the backend and API of their launcher, and with every update, they always try to maintain a clean look in their UI to ensure all players can find what they need at a single glance. Nowadays, SKLauncher is always releasing patches almost every week, which means that any potential issues you might find while using this Minecraft launcher will most likely get solved sooner rather than later. 
Something that hasn't changed over the course of time is their straightforward settings, allowing you to change the launcher's language, modify the Java Executable arguments and choose the max RAM usage. You can set profiles with historical builds (Alpha/Beta) and snapshots alongside the official releases, and enable some options like fullscreen without having to do so while playing. Support for premium accounts is also available, converting SKLauncher into a convenient hub to store all your Minecraft versions. 
The best part is that you can use it in 20+ languages thanks to fan contributions! Note that, before running the launcher, check that you already have Java 8 with JavaFX installed. 
2
CurseForge Launcher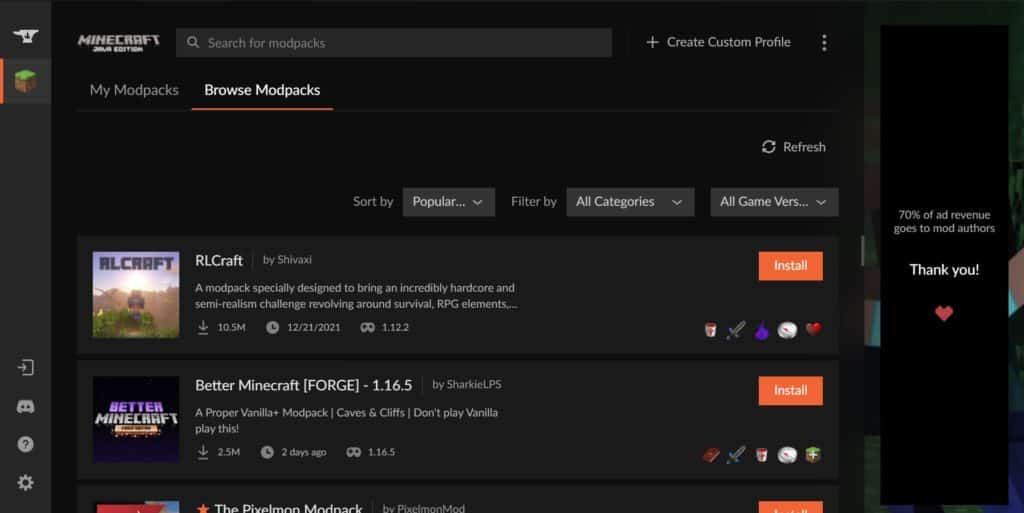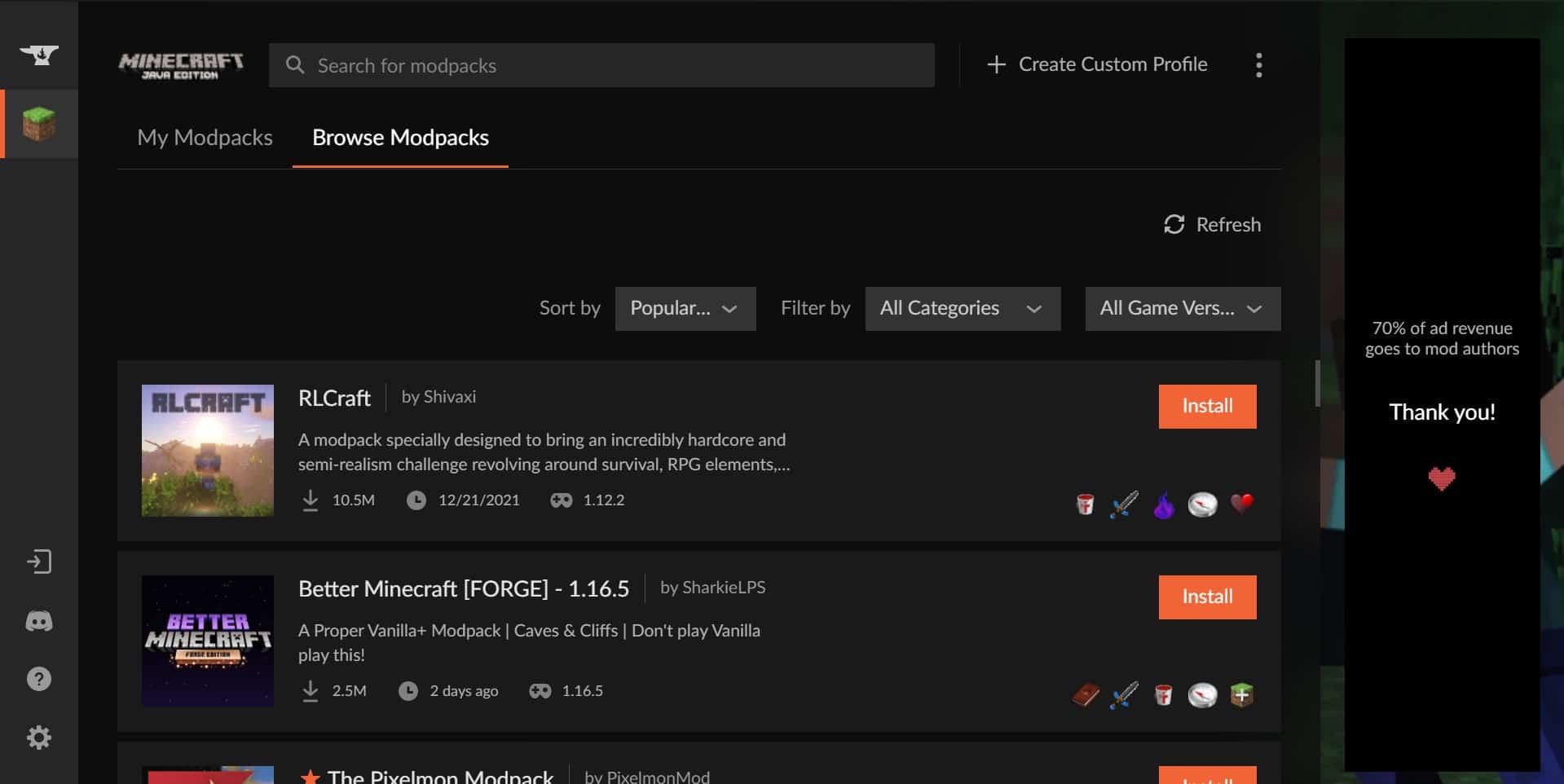 Best launcher for modded Minecraft
Auto-update feature for all addons
Monthly subscription for ad-free launcher
If you've been modding your Minecraft game for a while, you may already know about CurseForge and their amazing launcher. You can use it to manage several games at once, including Minecraft– Their site is one of the best places to find Minecraft mods and modpacks, and you can download them directly from their software in a breeze. This can be good or bad depending on where you usually download your mods from, but given the incredible variety of mods hosted within CurseForge, there's not much to worry about! 
CurseForge Launcher uses Overwolf as their framework and it offers a sleek design that's easy to navigate for beginners. Besides, you can update all addons with just a few clicks or set auto-update to keep it running in the background while doing other things. The best part is that CurseForge actively supports mod developers for their hard work, so give it a try if you want to give back to the great Minecraft community! If you're bored of using the default launcher, CurseForge Launcher is a good option to consider for managing any type of addons. Use the free version or pay the monthly subscriptions to remove ads!
Also: Improve your PVP skills and win all battles by following one of the 10 Best Minecraft PVP Tips we've compiled for you!
3
GDLauncher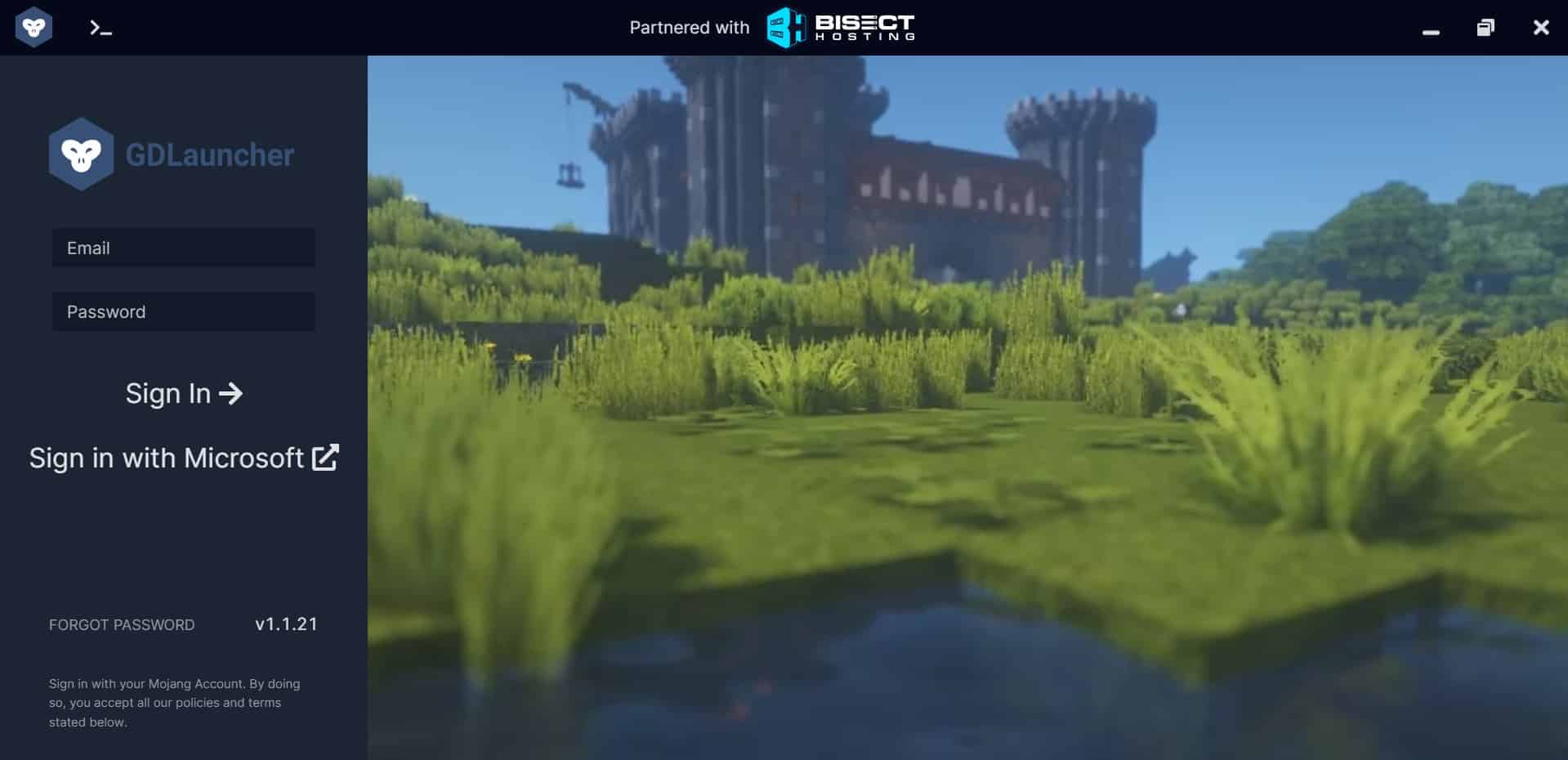 Supports Microsoft accounts
Allows for Forge-compatible mod packs
Can have a performance toll on your computer
A significant advantage to GDLauncher is that it supports Microsoft Accounts, meaning that you can access both Minecraft versions available for Windows, OS X and Linux. However, you have to manually activate it in their beta version.
GDLauncher allows you to import Forge-compatible mod packs to your game, and the best part is that you can also create your very own mod pack if you already have a bunch of addons installed. Their interface is extremely clean and allows you to save several instances for Minecraft and other games' mod packs. 
Keep in mind that you'll have several Java processes running in the background when using GDLauncher. If you're having performance issues with your computer, this launcher offers the so-called Potato PC Mode to ensure it runs as smoothly as possible. You can also export your mod pack using this software from other launchers, making it a very attractive option for most players. These files are compatible with CurseForge's website, making the entire experience of sharing your mod pack hassle-free all the way! 
Also: Do you wish to improve the way your Minecraft game looks and performs? Take a look at some of the Best Shaders for Minecraft 1.18!
4
TLauncher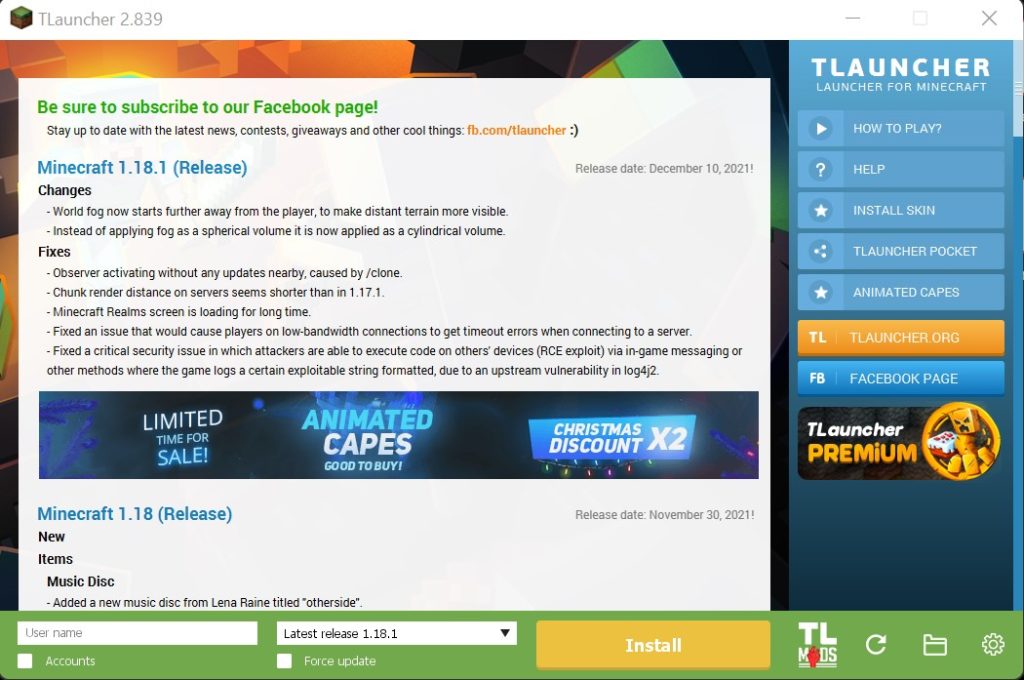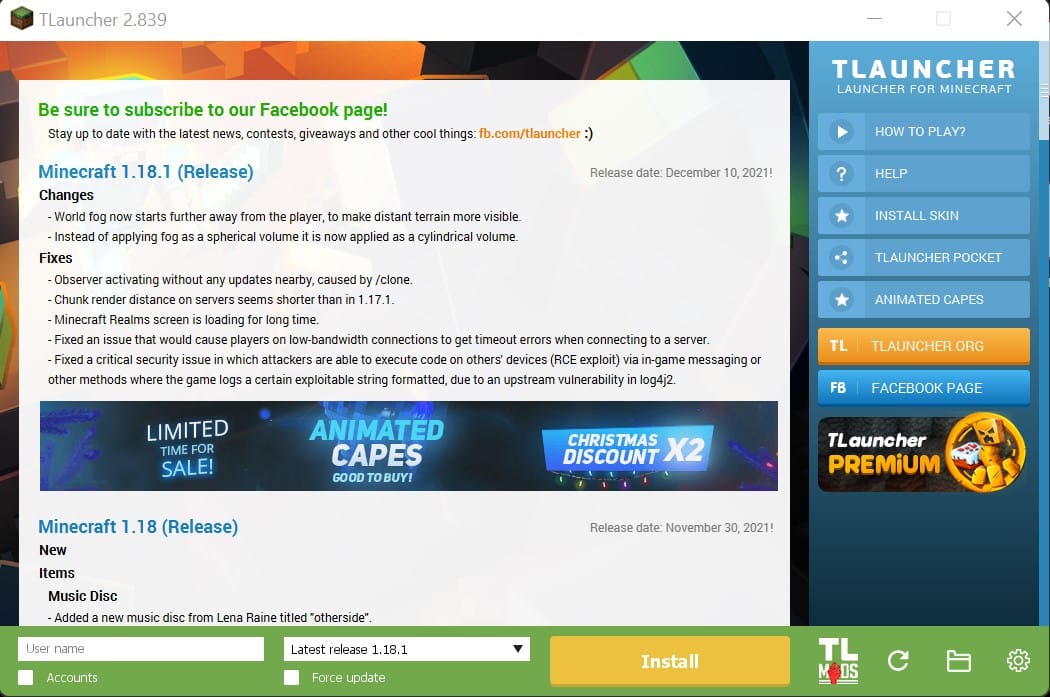 Easy to install Forge and other mods
Allows for several game instances
Offers a mobile version for Minecraft Pocket Edition
Full features behind paywall
TLauncher has been around since 2013 and it's a widely-known Minecraft alternative launcher within the community, passing the test of time with great performance and various features that make it an essential Minecraft launcher in our list. Installing Forge with OptiFine and other amazing mods is super easy when using TLauncher.
Whether you decide to use your user credentials from Mojang or register with TLauncher's site, you can create several game instances to keep everything nice and clean. You can easily access current and previous releases with TLauncher, and the good news is that it comes with a mod build to install them through the launcher rather than access the Minecraft file located at %appdata%. 
Their lifetime subscription unlocks higher download speeds from their servers and the ability to wear cloaks and use HD skins. Of course, you don't need to pay $20 to take full advantage of their features, but it's certainly something nice to keep in mind if you want to support the creators! As a side note, we strongly recommend you to check out TLauncher's mobile version if you want to play Minecraft Pocket Edition. You won't be disappointed!
5
ATLauncher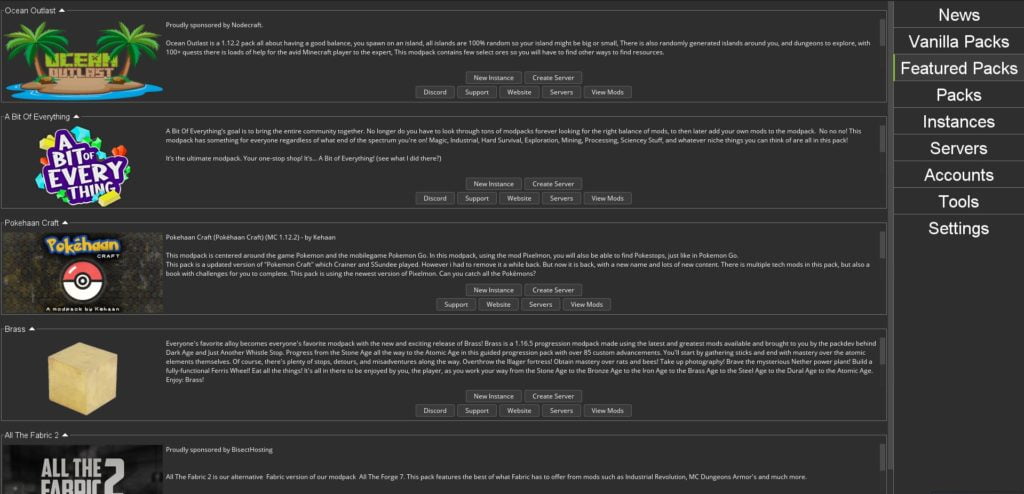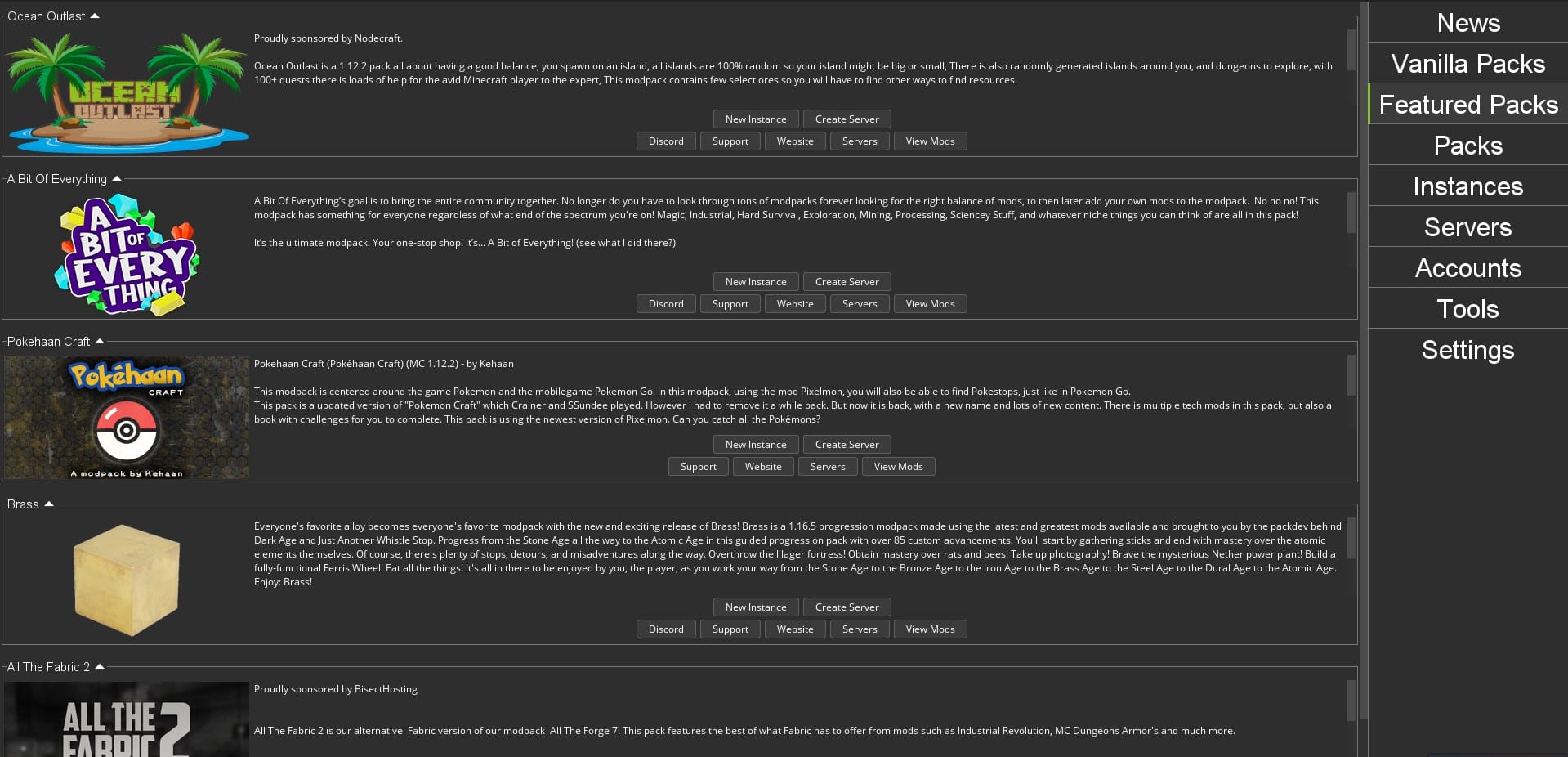 Lightweight
Best for testing servers and packs
Community spotlight section
Doesn't allow for Classic or snapshot versions of Minecraft
ATLauncher is a reliable Minecraft launcher that, compared to others, is incredibly lightweight. We reckon it's the best option available nowadays for installing and testing server packs, so if you're frequently setting up servers with friends to play Minecraft you already know what to download. 
It doesn't matter if you just want to properly set up a local or private server, ATLauncher can handle Forge, Fabric and CurseForge packs. As you'd expect, it allows you to administer separate instances in an organized layout. The nice thing about ATLauncher is its Features Packs section where members of their community share their favourite mod packs. It's the best way to discover new mods and test them right away!
One of its downsides comes from the fact that you cannot install the Classic or snapshot versions. However, with 1.18 already out and 1.19 releasing sooner rather than later, we think that's a fair tradeoff for such a good Minecraft launcher. You can check out their Github page if you're interested in understanding more in-depth how it's built!
6
MultiMC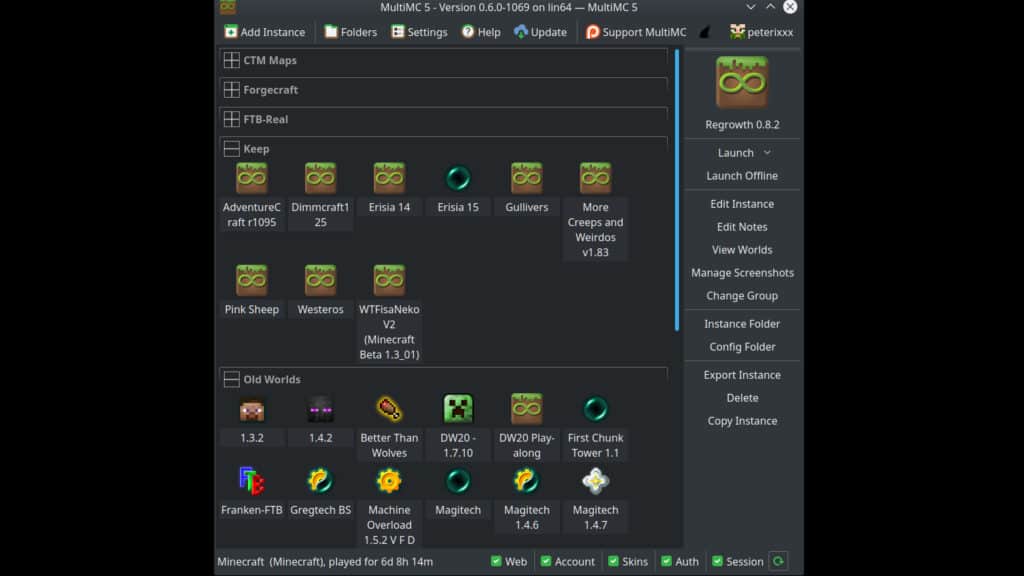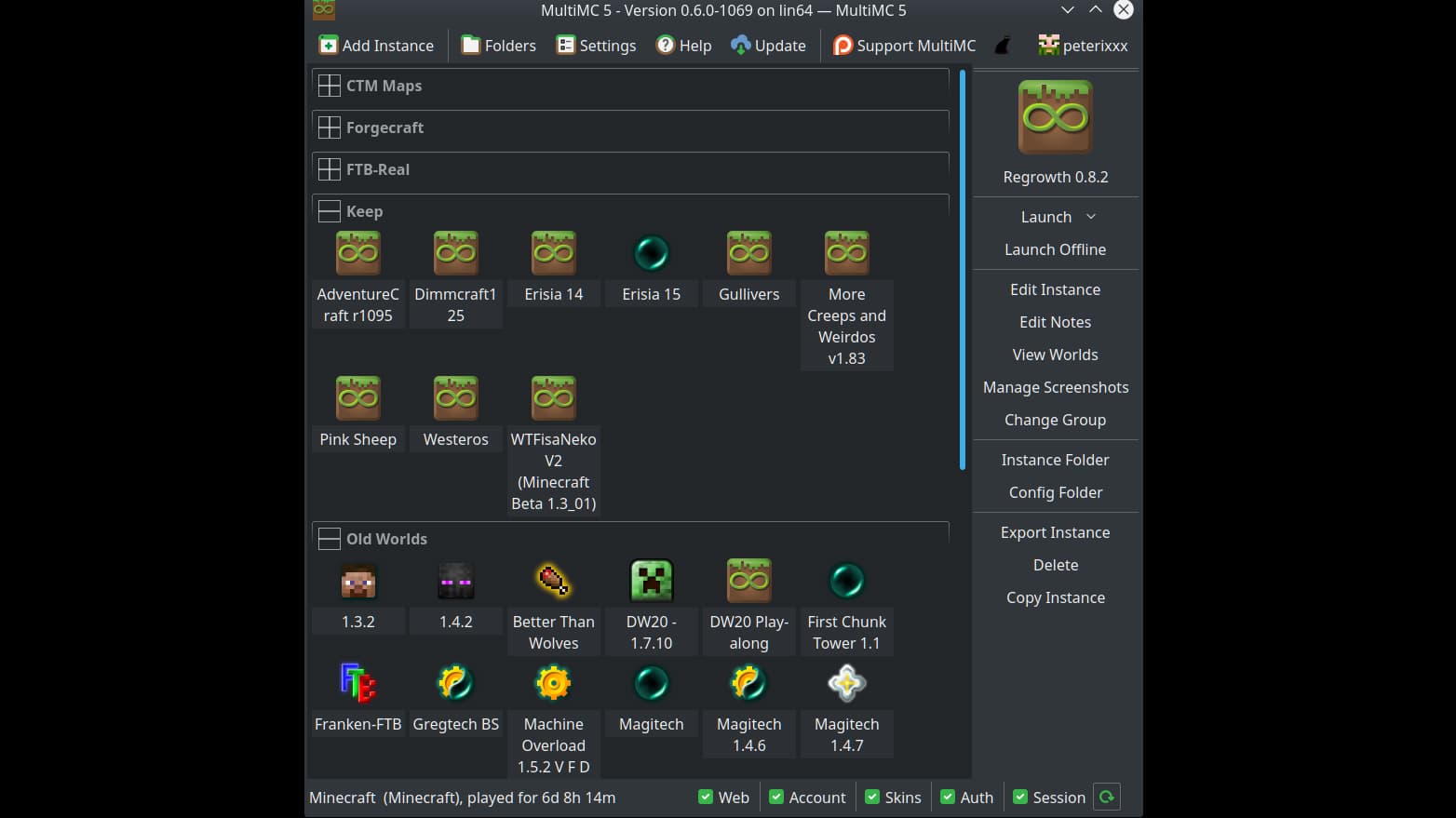 Open sourced
Create several Minecraft instances and manage them in one interface
Exported modpacks can only run with MultiMC
Updating mods is a tedious task
MultiMC is an open-sourced launcher designed for Minecraft that allows you to directly install any game's version with Forge, Fabric and LiteLoader with a few clicks. Just like most alternative Minecraft launchers, you can create several instances and manage them directly in a single interface. 
If there's one thing that hasn't changed in MultiMC is its efficiency and compact size. The program has developers that have worked with the vanilla Minecraft launcher, so we're certain they know what they're doing! View screenshots, create or change your profiles, launch the game in offline mode or check the list of installed mods and their installation paths. 
MultiMC is available for Windows, OS X and Linus, making it an accessible option for many players. While it's one of the best Minecraft launchers you can use in 2022, keep in mind there are some cons to using MultiMC. For instance, exported mod packs have a specific extension that cannot run in other alternative launchers.
Updating mods can also become a tedious task since you need to copy the instance, install the new version and copy over your settings. However, we still think it deserves its spot on our list due to its great functionality– that's all that matters in the end!
Also: Are you excited to hear more about Minecraft's future updates? Read about everything we know about the Minecraft 1.19 Wild Update!
7
Titan Launcher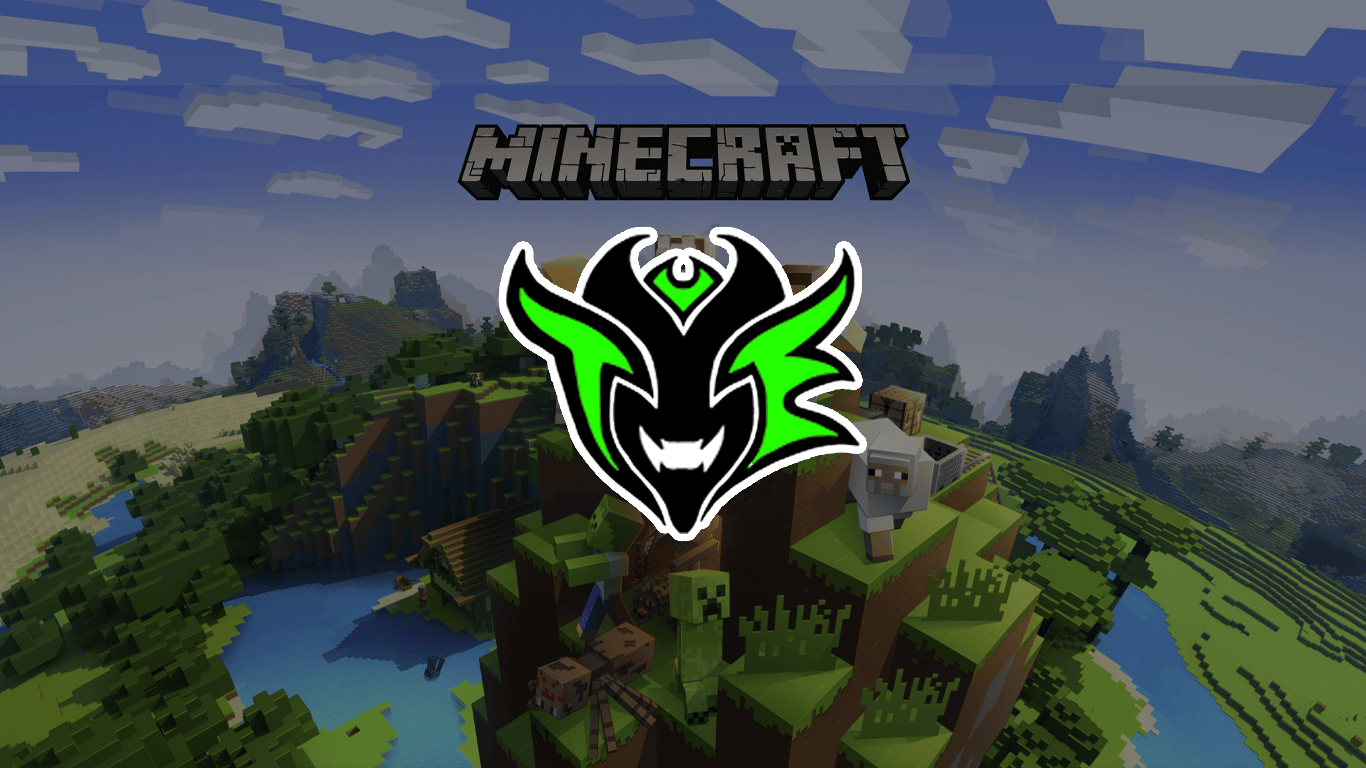 Lightweight and easy to transport
No premium account needed
Simple interface
Windows only
The Titan Launcher is a lightweight launcher made by developers called Team Xtreme. They're also talent creators and have released a bunch of mod packs as well. The highlight of Titan Launcher is that you don't need a premium account to play – making it one of the best cracked Minecraft launchers. It's simple to use with a clean user interface.
It's been stripped of bells and whistles to become portable yet high-quality when it comes to its performance on Windows. In addition, the launcher supports all versions of Minecraft and has a dedicated section for custom-made Minecraft worlds. So if you want to start playing Minecraft as soon as possible, it's a solid and trustworthy Minecraft launcher to install.
8
Launcher Fénix

Offers multiple ways to access the game
Allows for no-premium versions
No recent updates to the launcher
Only in Spanish
Launcher Fénix is a straightforward and amazing software that will remain as one of the best alternative Minecraft launchers for 2022. We know that it may be off-putting to see that it's only available in Spanish, but if you speak English you can still get a good feeling of how the interface works and get your game running in no time. Of course, if you do know how to speak Spanish, feel free to jump straight into installing and using Launcher Fénix.
One of the perks of using Launcher Fénix is the number of ways you can access the game. You can use your official Mojang account, register with Launcher Fénix's website or use the No-Premium version that only requires you to input a username. This launcher includes all releases, snapshots and Alpha/Beta Minecraft versions if you ever want to take a trip down memory lane.
While it hasn't received many updates compared to other launchers featured in our list, we recommend you to give Launcher Fénix a go, especially if you're a Spanish-speaking Minecraft player. The interface is easy to navigate and getting ready to play only takes a few minutes!
Also: Start a new game with the 10 Best Minecraft Mods for 1.18 and enjoy the newest features!
9
VoidLauncher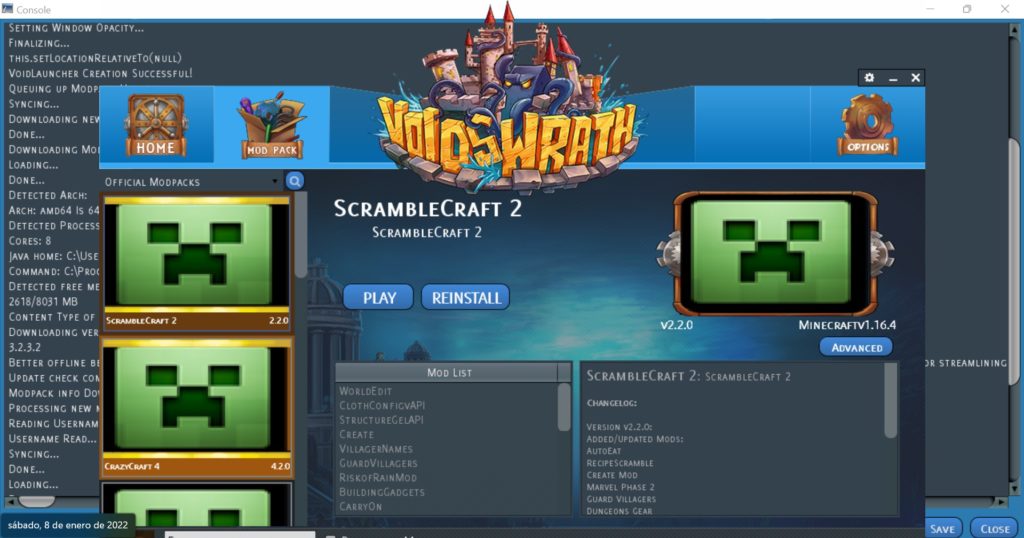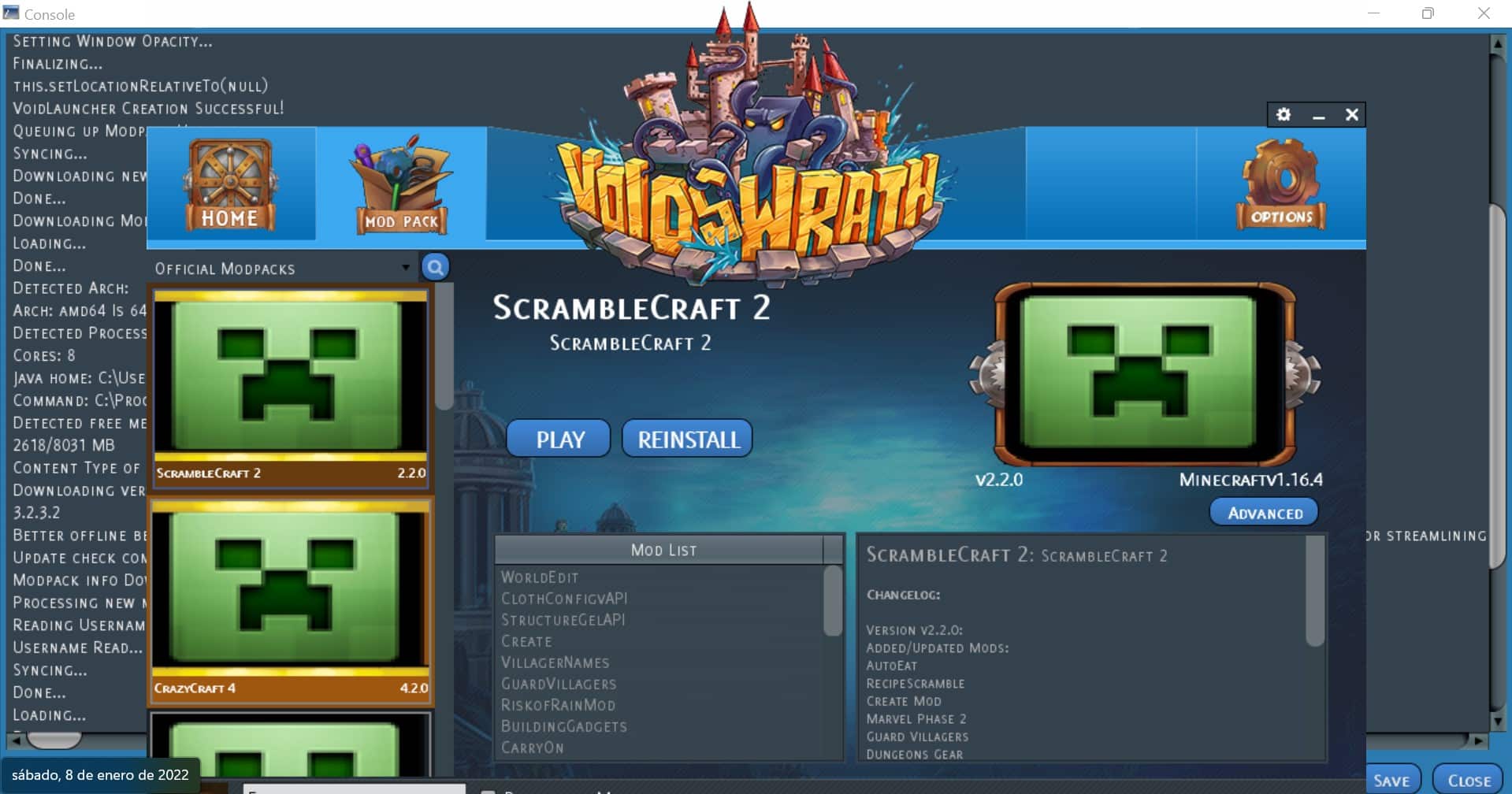 Separated tabs for best user experience
Highly collaborative with its community
The mod packs are massive and require a beefy computer
Can't help you create new Minecraft instances
The following entry in our list isn't as popular as other alternative Minecraft launchers featured, but that doesn't take away the fact that it's a great alternative as a custom mod pack launcher. VoidLauncher features 4 tabs where you can read about the latest updates from the team, search and explore all the available mod packs, look into the available servers exclusive to VoidLauncher, and another tab where you can build your own mod pack and save them for future use. 
With a big emphasis on collaboration and the community growing around VoidLauncher, it's a helpful tool if you don't want to go through the hassle of installing each mod individually. However, we do warn you that each mod pack starts with at least 30 or 40 mods, so make sure that your computer can actually handle it before installing. 
Since it's highly focused on mod packs, it's not going to help you create new Minecraft instances or change other settings related to the game itself. Using it as a complementary launcher rather than your primary one is the way to go with Void Launcher.
10
Technic Launcher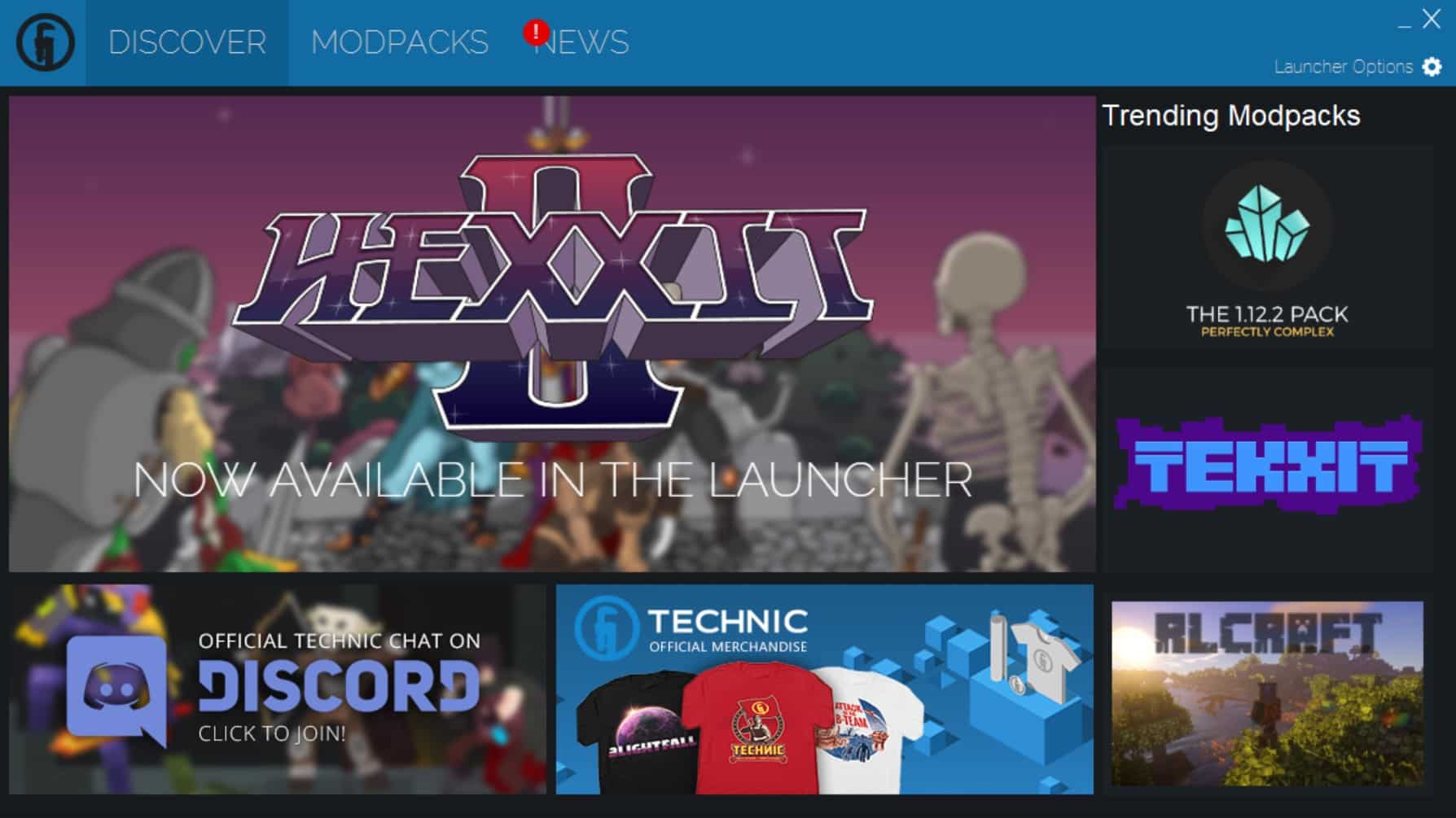 Specific focus on easy mod installation
Allows you to manage several mod packs at once
Auto-optimises its settings for your computer
Popular Packs are heavily outdated
Technic Launcher has a long history thanks to the team and community behind its development since it's mostly focused on easy mod pack installs. As such, we also recommend it as a complementary launcher once you've already installed Minecraft through other means. The program is easy to install and will automatically set the necessary settings you need to start using it.
This Minecraft launcher is available for Windows, Linux and macOS, doesn't require a lot of resources to run and it has a great selection of mod packs to choose from and install with a few clicks. The team is always working in the background to ensure all bug reports are fixed, so you shouldn't have any significant issues when testing Technic Launcher. Overall, a great option if you want to manage several mod packs at once!
11
BadLion Client

Significant focus on anti-cheating
Dedicated development team
Soon-to-be reward system for loyal players
You'll need to use your Microsoft account to create a new profile with BadLion Client
Its biggest advantage over other Minecraft launchers is its significant focus on anti-cheating. Over 45 thousand players choose this launcher to play their games, and the numbers only seem to increase! The launcher directly installs anti-Xray addons and other anti-cheating measurements to ensure the safest Minecraft experience online. Note that you'll have to use your Microsoft Account to create a new profile within BadLion Client. 
The team behind this is so committed to this cause that they publish the current statistics on banned players thanks to their launcher's tools. It also has exclusive mechanics within the client especially tailored for their community, and they're hard at work in adding a brand-new rewards system for loyal players.
If you're an honest player who's tired of griefers or cheaters, download BadLion Client and test it yourself!
12
Original Minecraft Launcher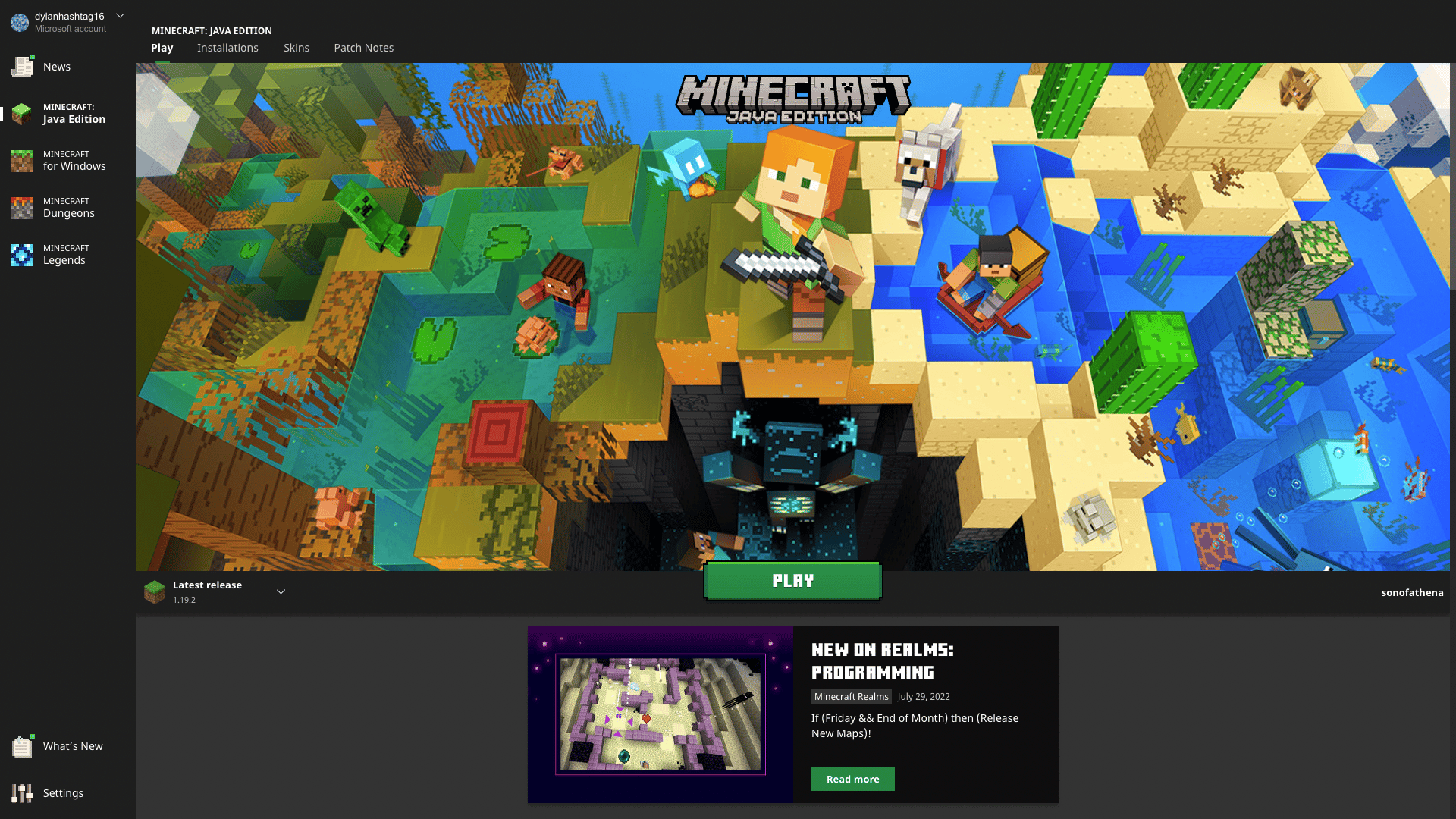 Fully integrated with the Mojang ecosystem
Easily adapted for mods
News features and community highlights
Can become cluttered
Yes, we can't disregard Minecraft's own launcher – also known as the Mojang launcher. This launcher is for you if you're fully integrated into the Mojang world with Minecraft and Dungeons. Another significant aspect is that it will soon feature Mojang's latest release – Minecraft Legends. It also allows you to swap between Bedrock and Java editions seamlessly. In addition, it easily adapts to mod launchers like Forge and Fabric, meaning that you don't have to install separate launchers. Lastly, it has a great news feature highlighting Minecraft's latest news and blogs, such as Realms updates and block spotlights.
However, if modded Minecraft is your go-to, this launcher isn't for you. As you install different modded profiles, it gets harder to manage, and your launcher will become cluttered.
Related: start your modding journey by reading our 30 BEST Minecraft Mods For 2022 list and download them to your heart's content!
---
Frequently Asked Questions
Using any of these alternative Minecraft launchers is ideal for helping you manage different versions and modpacks. But, if this is your first time researching them, you may have some questions. We've compiled some of the most frequently asked questions here for some guidance:
Why do I need an alternative launcher to play Minecraft?
Minecraft relies on Mojang's default launcher to start the game, allowing you to log into your account and keep your game updated to the latest version available. 
However, you control how each game instance works and manage mods better with an alternative launcher. Just to give an example, some of the featured launchers feature exclusive modpacks, plugins or premium benefits linked to their software.
Is an alternative launcher the same as a No-Premium launcher?
A No-Premium Launcher will always be an alternative launcher by nature. On the other hand, not all alternative launchers have the No-Premium option available. For example, most of our showcased launchers will always require you to have an original Mojang or Microsoft account to work correctly.
What is a No-Premium Launcher?
This can be a contentious subject among the Minecraft community due to its murky legality. Whenever you find a launcher that refers to itself as "No-Premium," it means that you can still access and play the game even if you don't have a Mojang or Microsoft account. 
Using a No-Premium launcher without actually owning an original copy can be interpreted as an active piracy endorsement and violates Mojang's terms and conditions. 
That's why most of the launchers showcased in this list require you to log in to Mojang servers to allow you to play Minecraft or connect to servers that have enabled "online-mode." Some launchers also include their policy in their websites specifying how they comply with copyrights, so it's always best to read thoroughly.
Are there any disadvantages to using an alternative launcher?
If you play with modpacks, some alternative launchers have specific file extensions that may not work elsewhere. Besides, each launcher can offer various customizable settings that won't be visible to other players accessing the game through a different launcher. This can apply to free features or premium perks you unlock with subscriptions or creating an account on their servers.
Are there any disadvantages to using a No-Premium Launcher?
Choosing to play No-Premium with launchers that offer that option will deny you access to officially endorsed Minecraft servers because they verify your online status.
My virus protection won't allow me to install the launcher!
Before troubleshooting, it's important to note that all of these Minecraft alternative launchers are virus-free. Make sure you've downloaded the file from the developer's official site to avoid any potential malware. However, your computer may flag them if they haven't updated their licenses in some cases. In that case, it's best to deactivate your antivirus temporarily and try again.
Playing modded Minecraft is what attracts new and veteran players alike, and we are so excited to see how each launcher gets its latest updates through 2022.
We hope that this list gave you some helpful insight on what could be the best Minecraft alternative launcher for your needs. Is there one we left out? Have you had issues with any of these programs? Let us know in the comments below!